Frigg, a startup that aims to revolutionize impact investing. An update on the journey:
Frigg aims to help small-to-medium blue-chip renewable developers, carbon removal or other decarbonization asset owner/developer access financing via blockchain rails by tokenizing debt of their project SPVs. After six months of hard work, the company went live with a proof of concept in September 2022. The $3m Swiss digital debt security was issued on Ethereum to refinance a government-supported developer's hydro project in Rwanda, Africa. The company is working on three key strategic initiatives to revolutionize sustainable finance, including groundbreaking research on asset tokenization and decentralized finance, developing tailored green bond products and services, and fostering renewable energy development in Africa.
An Update from the Founder
Frigg's Latest Advancements
Hello Frigg community!
It gives me great pleasure to share with you some exciting updates on our journey to revolutionize impact investing.
As we look back on 2022, we founded the company in January and closed an angel round soon after, which was supported by C-suite at a leading Swiss asset manager/private bank, Nordic and Swiss family offices, and European climatetech VCs.
Our goal is to help small-to-medium blue-chip renewable developers access financing via blockchain rails by tokenizing debt of their project SPVs. By doing so, we make renewable debt as an asset class more accessible, composable, and efficient for a wide spectrum of investors.
After 6 months of hard work, we went live with a Proof of Concept on September 30th, 2022. The $3m Swiss digital debt security was issued on Ethereum to refinance a government-supported developer's hydro project in Rwanda, Africa. Our PoC received public recognition in a tweet from the CEO of Circle, the second-largest crypto stablecoin funded by Blackrock and Fidelity. Later, it was picked up in an article by Blockworks, a recognized digital media platform with more than 2 million monthly page views, and DeFiLlama, one of the largest TVL aggregators used to track popular chains and their dApps.
Despite some setbacks due to surging inflation, rising central bank interest rates, crypto market turmoil, and the FTX collapse, we remain steadfast. We believe that the current crypto drought is not an indication of its demise, but rather a sorting process. As Steve Jobs once said, "It's when the tide goes out you find out who is swimming naked!" Next generation markets are based on tokenization, and even the TradFi industry agrees.
Our team, consisting of Francesco (CTO), Tommy (CPO), Olivier (Blockchain Engineer), Jennifer (Marketing & Comms), Adam (Head of Project Origination), Sergio (Front-end Engineer), Stefan (Design), Markus (Academic Council), Oliver (Quant Analyst), Manuel (Academic Council), and myself (CEO), have been working tirelessly, building strategic partnerships, focusing on product-market fit, and establishing trust. We are ready to take on the next big thing!
Looking ahead, our vision is grand, and our strategy is solid. We are focused and committed to bringing transparency, efficiency, and accessibility to impact investing. Our approach to generating traction is innovative and exciting. Our latest contribution made Top 10 most read articles of 2022 in illuminem, a leading source of sustainability news and the compass to guide the world into a collaborative and green direction.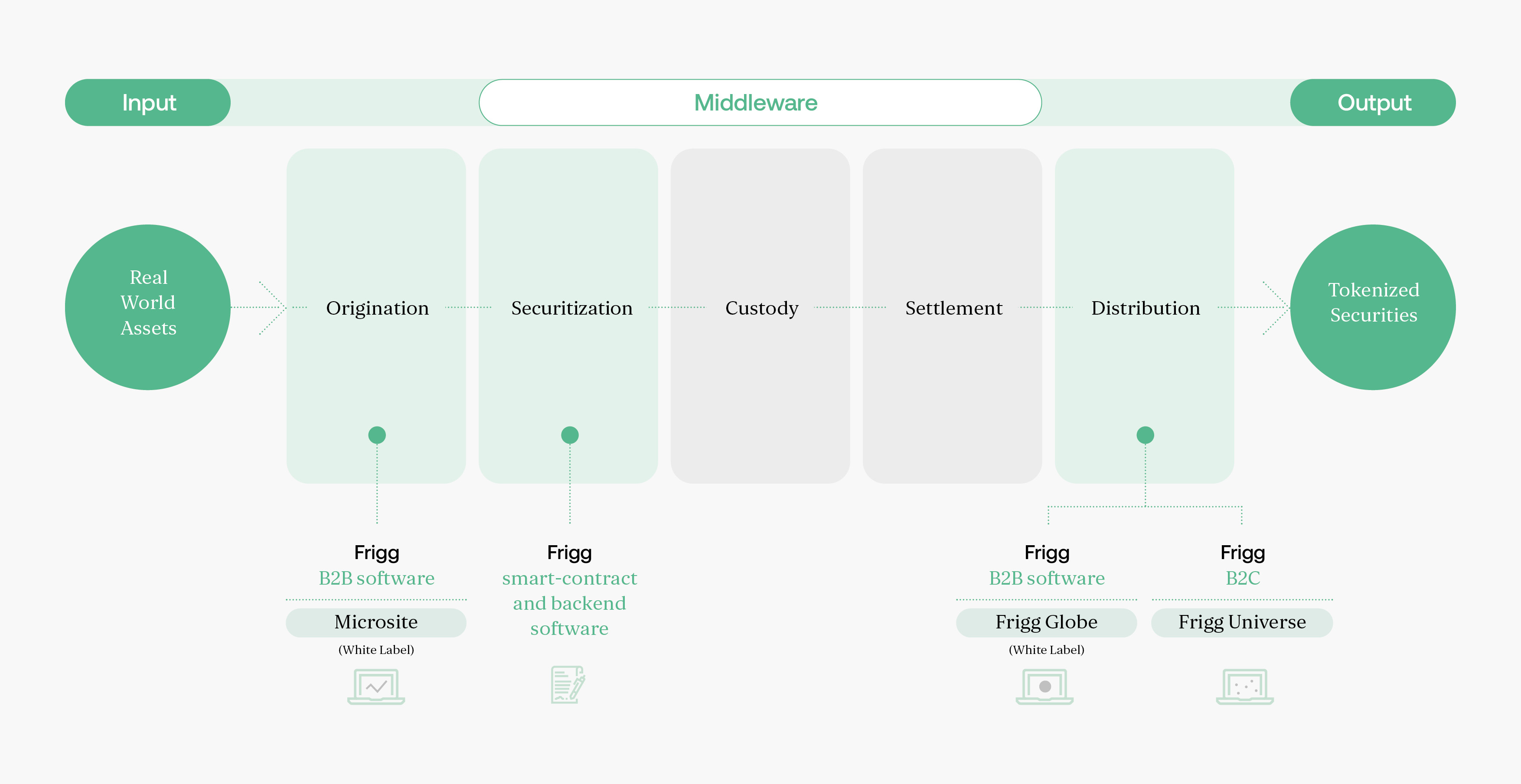 Figure 1: Frigg streamlines sustainable finance workflow, from origination, securitization, financing to post-financing monitoring and follow-up.
I am thrilled to share with you some of the key strategic efforts we're working on at Frigg. These initiatives are going to revolutionize sustainable finance and we can't wait to share the results with you. Here are the details:
Revolutionizing Sustainable Finance: Frigg's Groundbreaking Research on Asset Tokenization and Decentralized Finance
First up, we have some cutting-edge research underway that is going to blow your mind. Markus, Professor at the University of Zurich and our academic council, and Philip, PhD candidate at the University of Zurich, have received a grant from the Swiss Federal Office of Energy to study renewable financing via asset tokenization. This is some serious stuff, we're talking about quantifying the value-add of decentralized finance applied to sustainable investing. Markus and Philip, together with researchers at the University of Zurich, will be conducting framed stakeholder interviews with project developers and financiers along the sustainable finance value-chain. Let me tell you, we've got some heavy hitters lined up for this project, including some of the largest sustainable asset managers, financial institutions, and sustainable infrastructure developers. They'll be conducting PoC's to showcase the value-add, which is going to benefit Frigg tremendously. So, if you're a financial institution with interest in learning more about digital green bonds and how they could be seamlessly embedded into your financing workflow, reach out to Philip (philip.berntsen@frigg.eco). If you're a renewable energy, carbon removal or other decarbonization asset owner/developer, Adam (adam.straight@frigg.eco) will gladly take your contact request.
Understanding the Investor Mindset: Frigg Collaborates with E4S to Develop Tailored Green Bond Products and Services
Next, we're working closely with the Enterprise for Society Center (E4S), a joint venture of the University of Lausanne through HEC Lausanne, IMD and EPFL, to better understand how retail investors view tokenized green bonds. We want to understand their preferences, performance requirements, and risk perceptions. This collaboration is going to enable us to develop tailored products and services that meet the needs of our customers and partners. If you're a potential investor who wants to learn more about how to participate in this study, reach out to Jennifer (jennifer.shirin@frigg.eco).
Fostering Renewable Energy Development in Africa: Frigg's Partnership with Malthe Winje and Norec Grant to Digitize Due Diligence Processes
Last but not least, we're part of a Norec grant, in partnership with Malthe Winje, a Norwegian infrastructure developer with 15 years of experience in East Africa. Our in-house expert Oliver Carmignani will be reporting to Kjartan Stigen and based in Nairobi, digitizing renewable energy due diligence using remote sensing, ML, and AI. Manuel Renold, an Associate Professor, will act as an academic advisor. Oliver is eager to make new connections and accelerate renewable energy project development in Africa. So, if you're in Nairobi and want to connect with Oliver, don't hesitate to reach out (oliver.carmignani@frigg.eco).
Now, let's talk about our ultimate goal at Frigg. We want to build the most efficient software for originating, securitizing, underwriting, and distributing tokenized Sustainability Linked Bonds (SLBs). And we're making great progress towards that goal. We're building a web portal for originators (project developers) and distributors (financial institutions) to interact seamlessly. We're currently collecting feedback and aim to go live with some MVPs later this year – so stay tuned!
Check out these draft web portal designs that we've come up with. As you can see from Figure 2 and Figure 3, our team has been hard at work designing web portals that will revolutionize the way originators and distributors interact with one another. With these portals, bond issuance will be standardized in accordance with distributor requirements, and detailed due diligence can be conducted on newly issued bonds.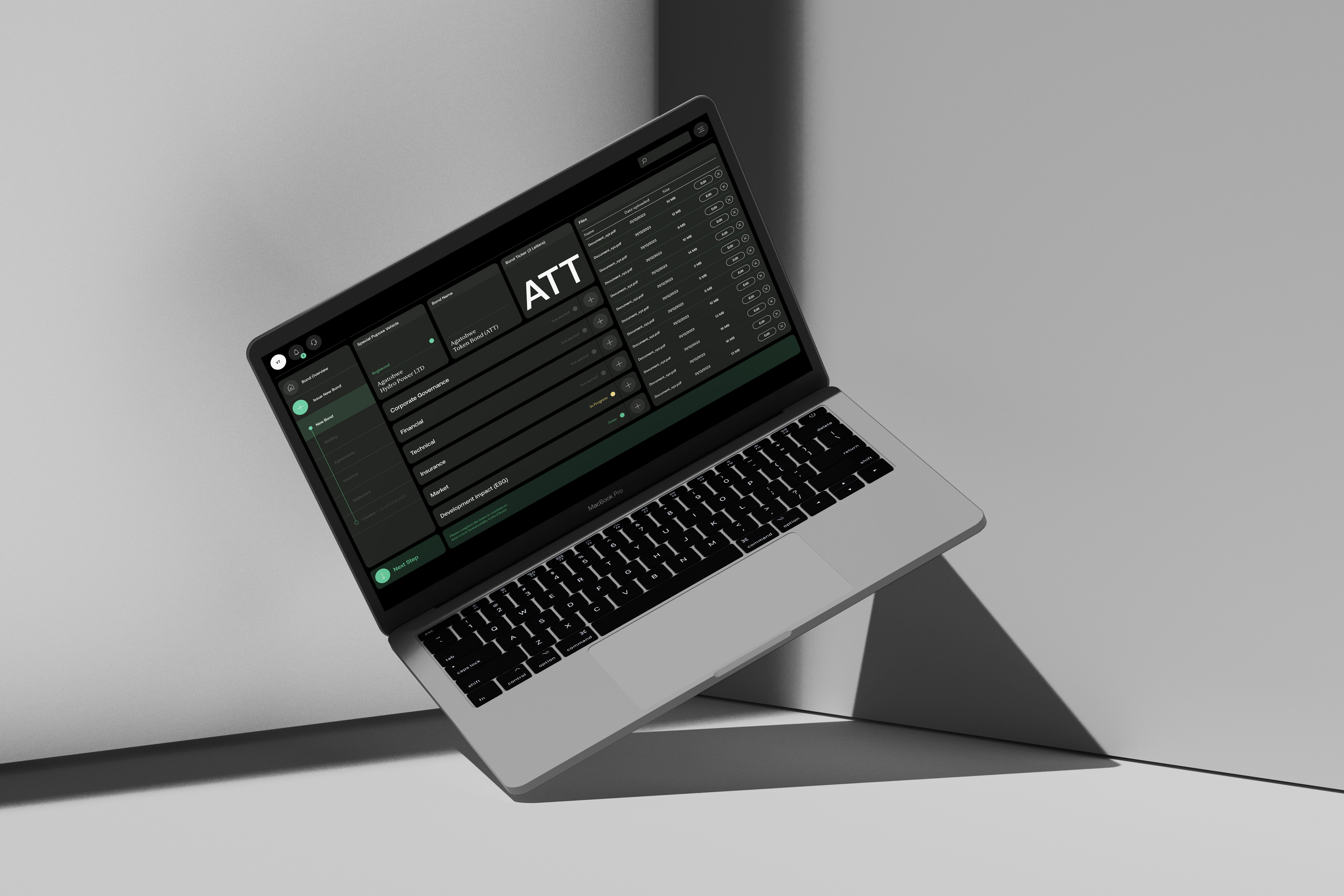 Figure 2: Web portal (DRAFT) for originators to standardize bond issuance in accordance with distributor requirements.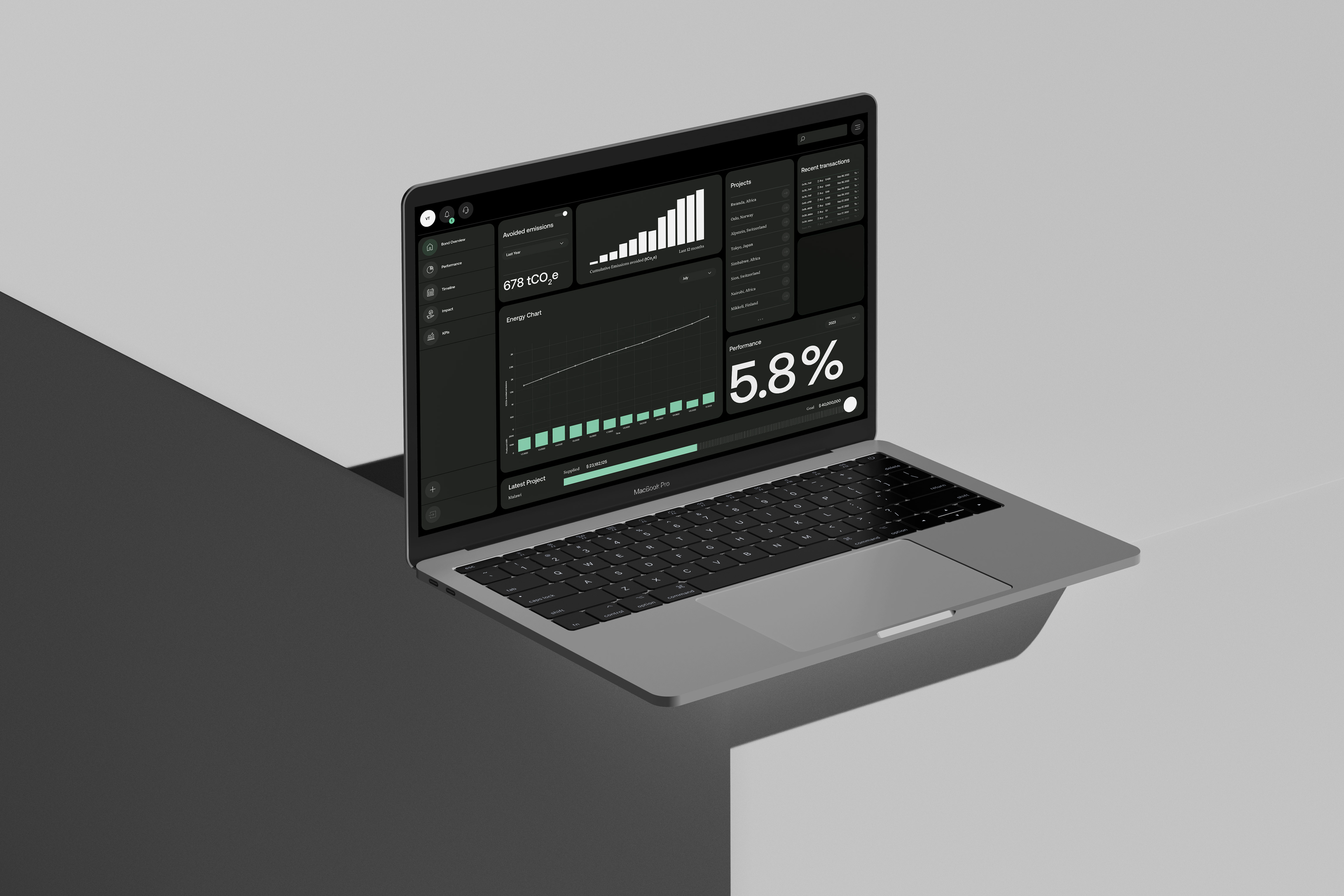 Figure 3: Web portal (DRAFT) for distributors to monitor existing investments and conduct detailed due diligence on newly issued bonds.
But we're not stopping there.
At Frigg, we're committed to keeping you informed about all of our exciting progress. That's why we'll be sharing regular updates on LinkedIn and publishing articles that address the challenges of impact investing and our plans to make it more accessible. We'll also be sharing insights from our team members' adventures along the way.
So make sure to follow us on LinkedIn and subscribe to our Friggletter to stay in the loop. We can't wait to share our journey with you as we build a bright and sustainable future for Frigg!
---
Philip Berntsen
CEO and Chairman of the Board of Directors
Frigg.eco AG